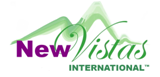 Home
Dear Friends of New Vistas International:
We regret to inform you that we will not be offering a class in August, and will be postponing all classes until further notice.
As some of you have already heard, the State of Nevada Board of Psychological Examiners has determined that within the state of Nevada the practice of Biofeedback and Hypnosis falls under the domain of the State Board of Psychological Examiners.  A bill was passed decades ago that was recently reinterpreted that changed the scope of the Board's influence without the full awareness of the alternative and complimentary medicine community.
There has been no new legislation in Nevada.  What has happened is that the Psy Board has made a new interpretation of already existing legislation.  Previously, the interpretation of the existing legislation had been that the Psy Board only regulated hypnotism for explicitly psychological purposes.  The Board is attempting a new interpretation, saying that their law allows them to regulate all uses of hypnotism (except explicitly for entertainment purposes) regardless of the purpose for which it is done.  They appear to be even attempting to block physicians and chiropractors from using hypnotism unless the individual is directly licensed by the Psy Board.
The Psy Board is legally within their rights to do this, and state law requires the Attorney General enforce this new interpretation with the state government paying for the cost of that enforcement.
They have sent cease and desist letters to many members of the hypnotherapy community, including New Vistas International.  While the various national and state psychology boards have been unsuccessful in Canada and every other state in the United States in enforcing some version of the law, they are still attempting this in Nevada.
If you have received a cease and desist letter please let us know immediately.  DO NOT CONTACT ANY STATE BOARD DIRECTLY WITH A PROTEST.   While you are within your rights to do so, hypnotists in other states have made intemperate statements and implications that the Board considers self-incriminating, and steps-up prosecution.
As a result of this injunction New Vistas International will be reviewing its various options and working closely with a number of organizations that support alternative and complementary medicine.  ACHE, NGH, and HMI are all aware of this activity.    The AFL-CIO has an excellent track record of dealing with legislation just like this.  Affiliation with the AFL-CIO gives Hypnotherapists access to the political and legislative apparatus of the AFL-CIO at every level of State and Federal Government.
There are two AFL-CIO Union organizations that are deeply involved with this injunction, and directly support Hypnotherapy – Local 104 and Local 472.
PLEASE JOIN ONE IMMEDIATELY!  Your support and head count are critical to our success!
If you are interested in participating or at least in becoming aware of what's happening, and want to protect your professional rights, please do the following:
Join one of the two hypnotherapy unions.

Local 104: https://ngh.net/legislation/nfh-union/
Local 472: http://hypnotherapistsunion.org/

Join the Yahoo group that has been formed as a coalition to create an intelligent response.  It is FREE and you can get a digest of activity to reduce the volume in your inbox.   HypnoBio Pro's Yahoo Group
Until further notice, do not offer hypnosis or hypnotherapy (or biofeedback) to the public.  In other states a legal injunction allowing practitioners to operate legally until the legislation is final was enacted.  THIS ALLOWANCE IS NOT YET IN EFFECT IN NEVADA.
Verify that your business cards, flyers, advertising and especially website does not imply anything that prescribes, diagnoses, or treats any psychological or physiological symptoms.  Make sure you are NOT advertising Hypnosis, Hypnotherapy, or Biofeedback.  Use the NGH code of ethics and standards to ensure all of your communication aligns with proper professional language.     CLICK HERE FOR PDF DOCUMENT.
We are expecting a fair and reasonable outcome, however this will take some time to work its way through the system.     Please look for future communication from us on this topic.
Sincerely,
Dr. Donna Hamilton, PhD, MFT
Rev. Bud James, MA Div