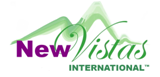 Home
Welcome to New Vistas International™, where education is not only entertaining, but life changing.  Our classes are fast-paced, interesting, and filled with the latest approaches in transformational processes.  We employ state-of-the art learning tools, as well as interactive, interpersonal, and experiential teaching.

Program Overview
Our Professional and Self-Mastery training programs are designed to support you in:  
Applying the PAUSE Model™ in a personal and professional setting.  PAUSE is an acronym that defines five essential Resource States that chart a Path to Wholeness through deeper levels of embodiment, personal awareness, physiological balance, guidance, and fulfillment.
Exploring Body Centered Psychotherapy: To experience being fully present and enhance the body's full vitality and capacity to renew, energize, and heal
Understanding Character Defense Systems: To recognize how our bodies hold powerful directions to defining transformative work
Understanding the Enneagram: To better understand ourselves, while increasing our ability to communicate with others and understand their world view
Utilizing Trauma Resolution Processes: To unwind the past, and release the future.
Incorporating powerful universal Spiritual Principles and Resources: There are useful principles, practices, and resources found at the core of nearly all major spiritual systems, including Christianity, Yoga, Buddhism, A Course in Miracles, and others.  Using these resource states provides a path to release, peace, and empowerment.
Utilizing Neuro Linguistic Psychology (NLP):  To set and accomplish your goals, and incorporate powerful communication and transformational tools into your daily life
Mastering Self-Hypnosis and Clinical Hypnotherapy:  To clear limiting images and beliefs
The Five Resource States of PAUSE:

P-Present
A-Aware Witness
U-Unified Self
S-Surrender
E-Evoke Essence
P-Present

 uncovers how we resist the natural flow of health and well-being in our bodies.
Based on a practical application of Character Analysis, inspired by the works of psychiatrists Wilhelm Reich, John Pierrakos, and Alexander Lowen.
A-Aware Witness identifies and addresses the personality patterns contributing to most of our challenges and frustrations.
The many authors of the Enneagram and Mindfulness Training influence our teaching of the Aware Witness. 
U-Unified Self  supports us in integrating the various apparently separated aspects of ourselves to deeply increase our resources in the present, creating a more empowered and expansive state of existence.

Based on the research of leaders in the field of neuroscience and trauma resolution, a unified, coherent sense of self generates feelings of confidence, self-esteem, and productivity.

S-Surrender invites us to confront unconscious patterns of resistance and projection that obscure the underlying lessons life offers us in every moment.

Based on the timeless wisdom of A Course in Miracles and other Spiritual Principles, resistance and projection are transformed into a bridge creating an abiding connection to our true nature.  The lessons our personal curriculum teaches us lead us to understanding, forgiveness, and peace.
E-Evoke Essence aligns us with the ultimate resource, the part of us that reflects the highest and best aspects of ourselves, which we call the Essential Self.

Grounded in consistent, reliable resources, we are aligned with the ultimate resource – the Essential Self.  The individual's path to wholeness becomes clear, with Comfort, Gratitude, and Joy as our guides.
The books, "PAUSE, The Prayer That Needs No Answer©" and "Allowing The Magic©" are expected to be published in 2015.
New Vistas International™, the New Vistas International™ logo, Mastering the Therapeutic Process™,  The PAUSE Model of Counseling™, The PAUSE Model of Hypnotherapy™, Hypno-Workout™, Allowing The Magic™, and PAUSE the Prayer that Needs no Answer™, are trademarks of New Vistas International, LLC, and are based on the five Resource States of PAUSE.