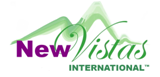 Home
Dear Friends of New Vistas International:
We regret to inform you that we will have postponed all classes until further notice.
As some of you have already heard, the Nevada Board of Psychological Examiners (NBPE) has determined that within the state of Nevada the practice of Biofeedback and Hypnosis falls under the domain of the State Board of Psychological Examiners.  A bill was passed decades ago that was recently reinterpreted that changed the scope of the Board's influence without the full awareness of the alternative and complementary healthcare community.
There has been no new legislation in Nevada.  What has happened is that the NBPE has made a new interpretation of already existing legislation.  Previously, the interpretation of the existing legislation had been that the NBPE only regulated hypnotism or biofeedback for explicitly psychological purposes.  The Board is attempting a new interpretation, saying that their law allows them to regulate all uses of hypnotism and biofeedback (except explicitly for entertainment purposes) regardless of the purpose for which it is done.  As Dr. John Butler, President of the ACHE has observed in a recent email:
"The information presented to (the Nevada State Legislature) at that time gave no indication whatsoever that the State of Nevada, in accepting these additions, was putting itself in the position of putting citizens out of business, restricting consumer choice, and making itself liable for potentially costly enforcement actions, not to mention liability for damages for losses caused by these enforcement actions."
The NBPE has sent Cease and Desist letters to many members of the hypnotherapy and biofeedback community.  They have also retracted these letters, and are now determining how to regulate Hypnosis and Biofeedback within the State.  We are reviewing our various options and working closely with a number of organizations that support alternative and complementary healthcare and coaching.  Within the Hypnosis Community, The American Council of Hypnotist Examiners, National Guild of Hypnotists, and the Hypnosis Motivation Institute are all well aware of this activity as are the two major Hypnotherapy Union Locals of the OPEIU-AFL-CIO, 472 and 104 .
Our goal is to form a partnership with the NBPE to create a clarification of the scope of practice for Hypnotherapy and Biofeedback.  Our primary concern is for our graduates and fellow professionals as this directly affects their therapeutic, educational, and vocational options.  It also restricts the public's ability to choose healthcare options on the open market.
We would like to see specific legislation added to the NRS that is similar to California's SB 577 effectively protecting Complementary and Alternative Health Care.  This would effectively clarify the scope of practice for Hypnosis and Biofeedback professionals as well as protect the various licensed professionals practicing in Nevada.
We appreciate your understanding and support as we transition through this period of clarification. If you have received a cease and desist letter please let us know immediately.  DO NOT CONTACT ANY STATE BOARD DIRECTLY WITH A PROTEST.   While you are within your rights to do so, hypnotists in other states have made intemperate statements and implications that the Board considers self-incriminating, and steps-up prosecution.
If you are interested in participating or at least in becoming aware of what's happening, and want to protect your professional rights, please do the following, and ask all fellow professionals to do the same:
1)     Join one of the two Hypnotherapy Unions.
This will increase the visibility of the number of affected professionals and increase our opportunity to weigh-in on this matter.
 2)     Join our Yahoo group
It has been formed as a coalition to create an intelligent response.  It is FREE and you can get a digest of activity to reduce the volume in your inbox. Important documents, news, and communication can be found here.  https://groups.yahoo.com/neo/groups/HypnoBioPros/info
3)     Filter Your Advertising
Verify that your business cards, flyers, advertising of any form, and especially website DOES NOT imply anything that prescribes, diagnoses, or treats any psychological or physiological symptoms.  Use your Certifying Organization's Code of Ethics and standards to ensure all of your communication aligns with proper professional language.   Click here for a PDF document on Ethics and Standards.
We are expecting a fair and reasonable outcome, however this will take some time to work its way through the system.  Please join us for future communication on this topic.
Sincerely,
Dr. Donna Hamilton, PhD, MFT, HE Rev. Bud James, MA Div, HE